My dog (that I love).
So yeah, I have a dog.
She is the cutest thing ever, in my opinion, around 3 years old, with the name of Lily.
Here are some pictures of her: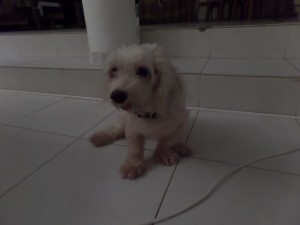 I call her a cutie derpy doge, she always has dirty hair, since she just runs around in the dirt, and her tongue hangs out constantly. Now, this is because of a condition of hers, she has an overbite, so her jaw isn't aligned well, but personally I just think it makes her cuter. She loves to eat, mostly our food, and she just hangs out beneath our feet at the table, waiting for her gaze to take effect and make us give her something. All this even though she always has food in her bowl (though they are dog food, so I guess it's not as good). She is quite energetic, running up and down the walls (figuratively) when we come back from school, and then she just naps for long periods of time.
Well, that's all for today, just a bit of hindsight about my one and only doge.
From the master of posts 🙂